HENDERSON PLAYGROUND EQUIPMENT
By Henderson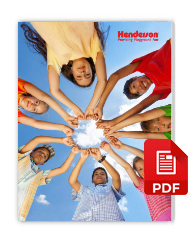 Henderson Recreation equipment is 100% Canadian made. Henderson is the largest manufacturer of commercial playground equipment in Canada and have been leaders in quality-built playgrounds for over 45 years. Henderson is dedicated to connecting families within their communities and helping them thrive and grow.
Henderson believes that playgrounds should be fun and exciting but also challenging and nurturing. They pride themselves on safe, reliable, and innovative playground structures for their most important customer - children. Henderson playground equipment has an extremely high standard for quality and safety, never compromising either. With over forty years of experience, and third-party testing, you can be assured that safety of the children is taken very seriously in every piece of Henderson playground equipment.
Henderson takes many measures to reduce the environmental impact of their materials and manufacturing processes. They make it a priority to use recycled, recyclable, and renewable resources wherever possible. They also operate a lean manufacturing system to reduce waste and energy consumption while still ensuring quality, consistency, accuracy, and timeliness of all their playground products. Henderson is in the business of "Putting Children First," which shows in everything they do.
Green Roots Play Equipment is proud to be the exclusive playground equipment suppliers and installers in British Columbia for Henderson Recreation. To learn more, please call us at 1-855-382-7529 or contact us online. Be sure to ask us about available playground grants including grant money available through the BC government's Playground Equipment Program (PEP grants).
Henderson Playground Equipment FAQ
Who is Henderson Recreation Equipment?
Henderson Recreation Equipment is a Canadian manufacturer with over 50 years of experience.
What is natural playground equipment?
When people refer to natural playground equipment, they are sometimes looking for natural wooden products. This type of product is often not CSA certified and can rot or wear down more easily. Other times they are looking for products that have a natural look to coordinate with the area surrounding the playground/park and want natural coloured and themed playground equipment that is durable, CSA certified and comes with a leading-edge warranty.
How long will Henderson playground equipment last?
Henderson playground equipment is designed to last for decades with proper care and maintenance.