BERLINER PLAY EQUIPMENT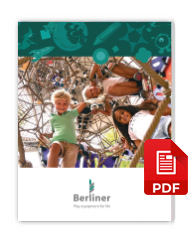 Berliner's claim "Play Equipment for Life" defines the way they build playground structures. With over 40 years in the commercial playground equipment industry, Berliner ropes have a world renown reputation for their creativity, durability, and quality. Their ropes are interwoven into climbing webs, which allows the children to climb in three dimensions, creating challenging, imaginative, and spatial play. Swing, hammocks, carousels, playhouses, play sculptures, and play towers are also highlights with Berliner play equipment, offering dynamic and innovative play and a unique niche to the playground equipment world. With Berliner, the possibilities are endless!

To learn more about Berliner play equipment, please Contact us online or call us our experts at Green Roots at 1-855-382-7529. We can also help you explore available playground grants including grants offered through the BC government's Playground Equipment Program (PEP grants).