0 Early Childhood Playground Equipment
by

Green Roots Play Equipment

06-12-2019
Your vote is:
2.17 of 6 votes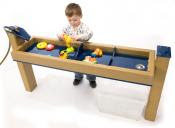 Playground Equipment
As one of Canada's leading playground equipment suppliers, Play Mart is also the Canadian leader in sustainable early childhood playground equipment for all ages!
With Green Roots, you can place your order today for this hands-on water play, so the children have the opportunity to enjoy the outdoor play this summer. The "Nature of Play" products from Play Mart provide a hands-on learning experience. At the same time they allow the kids to see the benefits of recycling since Play Mart is well known for making incredible playground equipment from recycled materials.
Play Mart Playgrounds is leading the way in sustainability and providing you with fun, safe and educational early childhood playground equipment. Contact Green Roots Play Equipment at 1-855-382-7529 to learn more.